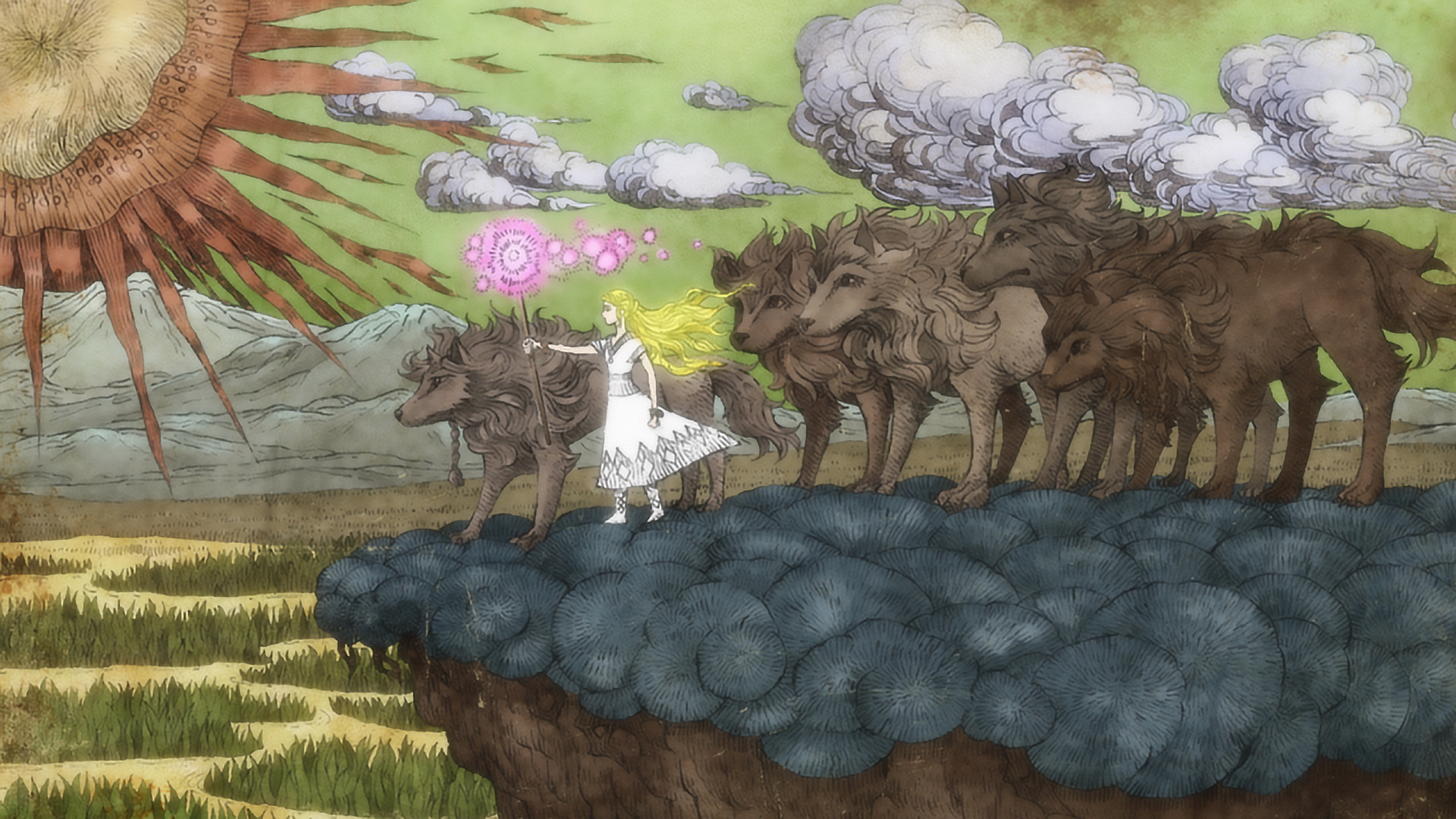 Episode 7 Story
As the practice for the musical play heats up, Haruka is getting uncomfortable with the plot. "No! This is not the way my character should feel!" Struggling to find a way out, she mentions to Tamaki she is thinking of visiting the Land of Never Forgotten.
According to what she was told by her mother years before, visiting the place helps anyone who has lost his/her way.
Haruka and Tamaki set out on a trip on the Train Line to the Phantasmic World and on their way find themselves somehow lost within an ancient story of their ancestors; The Land of Never Forgotten used to be called the Land of Wolves, where the Earth Wolves flourished until they were diminished. They are the old days long forgotten by the people of Hinomori City…
About "6HP" | Introduction | STAFF & CAST | Works
About "6HP"
6HP (Six Heart Princesses) is a majokko (magical girl) animation project directed by contemporary artist and president of Kaikai Kiki, Takashi Murakami. The character design is by artist mebae, the director of PONCOTAN's Sapporo studio. The series is PONCOTAN's main project.
Majokko (or maho shojo) refers to a popular genre in Japan that is filled with girls' dreams and hopes. A product of Japan's unique imagination, it has evolved over many generations. Hoping to convey the appeal and potential of this genre at the center of the Western art world, Takashi Murakami exhibited a 5-minute-long short film titled Six ♡ Princess at his solo exhibition in Versailles, France in 2010. This marked the start of the 6HP project.
Led by mebae and the young staff at PONCOTAN's Sapporo and Nakano studios, the aim of the 6HP project is to create high-quality animation spanning a wide range of media and styles. So far PONCOTAN has released a pilot promotional video created entirely with 3D graphics and a promotional video for a 6HP cosmetics line developed in collaboration with cosmetics company Shu Uemura, and put on an unprecedented cosplay stage performance in collaboration with Cure WorldCosplay (a photo-sharing and social networking site for cosplayers) that blurred the line between original and imitation. Featuring cosplayers dressed as 6HP characters, the performance was held from 2013 to 2015.
6HP is about a second-year junior high school student named Haruka Hani who goes to a school called Hinomori Gakuen. A member of the school drama club, she has been working on the script for a play the club plans to put on at the upcoming school festival. She's been having trouble finishing it, and her childhood friend Tamaki Teijou has been urging her to hurry up. All in all, she seems to be enjoying her life.
From time to time, monsters called Zaiju (Beasts of Sin) appear and attack Hinomori, the town where Haruka lives. But the Heart Princesses are there to fight the monsters.

Haruka looks up to these princesses who protect the people of Hinomori from the Zaiju, wishing that she too could be a princess someday.
Then one day, when she is working on the script at home, a mysterious cat named Jin comes to her and says, "You seem to have the right qualities to be a princess. What do you think? Would you become a princess?"
Episode 1 Story
In a dying world, an isolated town called Hinomori remains. When the town is attacked by mysterious beasts called Zaiju (Beasts of Sin), legendary Shamanic Princesses of War known as the Heart Princesses appear and protect the town. Thanks to their vigilance, the people have lived in relative peace.
Haruka Hani is a somewhat ditzy second-year junior high school student at Hinomori Gakuen who always has her head in the clouds and wants to be a Princess. When telling her friend Tamaki Teijou about an idea that just popped into her head, they both decide it would be a great idea to turn it into a musical for the autumn school festival.
That evening a cat named Jin, who introduces herself as a member of the Moon Cat Clan, appears to Haruka. "You seem to have a compassionate heart. Well, what do you think? Would you become a princess?"
"A princess? I'd love to!"
Haruka and Tamaki are looking for locations to get ideas for their musical when they are attacked by the Zaiju of greed, Aprestia. Excited at her first chance to transform, Haruka shouts, "Compassion is the maiden's way! Pink peony of love, Pink Princess!"
Then Haruka hears her friend scream in the distance. "Tamaki!" she calls.
Episode 2 Story
About to be attacked by the Zaiju Aprestia, panicked Tamaki recalls a childhood memory: Traveling on a dangerous route under attack by bandits was grueling for a little immigrant girl. Tamaki and the other members of the Society of Eastern Migrants arrive at Hinomori—the last peaceful land in their dying world.
With the help of Gold, Purple, and Green Princesses, Pink Princess defeats the Zaiju Aprestia after an intense battle. The princesses rejoice over Pink Princess's first victory. But the Earth Wolves, who are the masters of the Zaiju, wait in the background bearing their fangs in anticipation of revenge.
Episode 3 Story
Ami Gidou is a second-year junior high school student at Hinomori Gakuen, and the star waitress at the downtown Chinese restaurant. She has watched her adoptive parents struggle at running the restaurant since she was little, and spends her days working hard to help them.
Knowing nothing of this, Haruka and Tamaki come to the restaurant to prepare for the musical they plan to put on at the upcoming school festival. Haruka and Ami start humming and realize that for some reason they are in perfect harmony.
"This must be fate!" says Haruka excitedly. She begs Ami to be in the musical, but Ami refuses, saying she is too busy helping out at the restaurant. Actually, there is something else Ami is worrying about that she cannot tell anyone...
Episode 4 Story
A gentle rain falls on Hinomori Gakuen. Second-year high school students Kanade Chidori, Makoto Yoshitada, and Megumi Daishin are getting irritated because the Moon Cat Clan, who chose them to be Purple, Green, and Gold Heart Princesses, seems to be hiding something important from them...
Meanwhile, Fusanosuke Hoegami and three other Earth Wolves in human form at the school are also unsure what to do. Should they continue to follow the mysterious "masked man" who gave them their power?
Then, a new teacher, Mr. Kanamori, comes to the school. He declares he will be the advisor of Haruka and her friends' drama club as they work on their musical, but...
Episode 5 Story
As a keen advisor, Mr. Kanamori insists that Haruka and others should participate in a training camp where he will teach attitudes towards musical and "knock them into shape." Yukari Mure, a member of the student disciplinary committee who just happened to be there also ends up joining them. The camp will take place in a neighborhood called the Boundary at the End of the World, where people visit to reflect on themselves, explains Mr. Kanamori.
As they travel on the Kyoukou (rugged inlet) Train, Haruka and her mates encounter Zaiju Oknelia that appears as if to block their way.
Meanwhile, Purple, Green and Gold Princesses were checking the windmills to figure out if they had something to do with the Zaijus until they suddenly get sucked into a mysterious hole that transports them to where Oknelia is attacking the train.
The three princesses try to defeat it by one of their special moves called "Danzai (Punish and Destroy)" but find themselves instead trapped in the transparent shields cast by their opponent who attempted to immobilize them. Pink and Blue Princesses rush to rescue their superiors, but Pink gets trapped and Blue is left alone barely holding on.
Yukari is watching the Heart Princesses as they try to protect the train from Oknelia. That is when Rei who is a member of the Moon Cat Clan appears and asks her to become one of them...
Episode 6 Story
Tamaki cannot get rid of the disturbing idea that Fusanosuke can be one of the Earth Wolves, and she has trouble focusing during practice for their musical play.
That night, she is at home trying to study but still cannot focus when Tei appears and tries to awake her - or persuade her to transform herself into Black Princess. Tamaki, who does not trust anybody, turns down the request.
Desperately in need for Tamaki to engage in a battle as a Princess, Tei and the masked man plot together and succeed in having her and Fusanosuke visit an abandoned movie theatre. There, Fusanosuke reveals to Tamaki what he calls the Truth of the World and tells the story of the Earth Wolves, the Moon Cat Clan, and the Almighty Hinokami whom Tamaki has never heard of, as well as the reasons why the Princesses have to fight.
Tamaki cannot believe what she is hearing when Tei, irritated, cuts in and exercises her magical power to transform her into Black Princess. The masked man follows and turns the Princess into a Zaiju using the Fragment of Sins.
"I never trust anybody - the Earth Wolves, the Moon Cats, or humans!" Tamaki is now torn between the things she used to believe and what they call the "truth"...
STAFF & CAST
- STAFF -
Director: Takashi Murakami

Character & costume designer and lead animation director: mebae

Mechanical design and concept (world view) design: JNTHED

Script writer and series construction: Daichi Nakagawa

Art director: Hiromasa Ogura

Production: Kaikai Kiki and Studio PONCOTAN
- CAST -
Haruka Hani: Atsumi Tanezaki
Tamaki Teijou: Ryo Hirohashi
Ami Gidou: Yuko Hara

Fusanosuke Hoegami: Yoshitsugu Matsuoka
Jin: Akiko Yajima
Narration: Kotono Mitsuishi
Works
2014 - 2015 6HP Cosplay Stage Performance Key Visuals
2014 - 2015 6HP Artwork
6♥Princess by Takashi Murakami for Shu Uemura
6HP (Six Heart Princesses) promotional video
Character designer and animation director: mebae
Computer animation director: Musashi Miura (Studio PONCOTAN)
Editor: Yumi Nonoichiya
Production: Studio PONCOTAN
Planning, story, director: Takashi Murakami

©2012 Takashi Murakami/Kaikai Kiki Co., Ltd. All Rights Reserved.
6♥Princess by Takashi Murakami for Shu Uemura
「6♥Princess」
Director: Takashi Murakami
Music: livetune "Pink or Black"
Character Design / Key Animator: mebae
Choreographer: Ken Maeda (K Dash Stage)
Editor: Hidemi Li
Animation Production: Kaikai Kiki Sapporo STUDIO PONCOTAN

©Takashi Murakami/Kaikai Kiki Co., Ltd. All Rights Reserved.