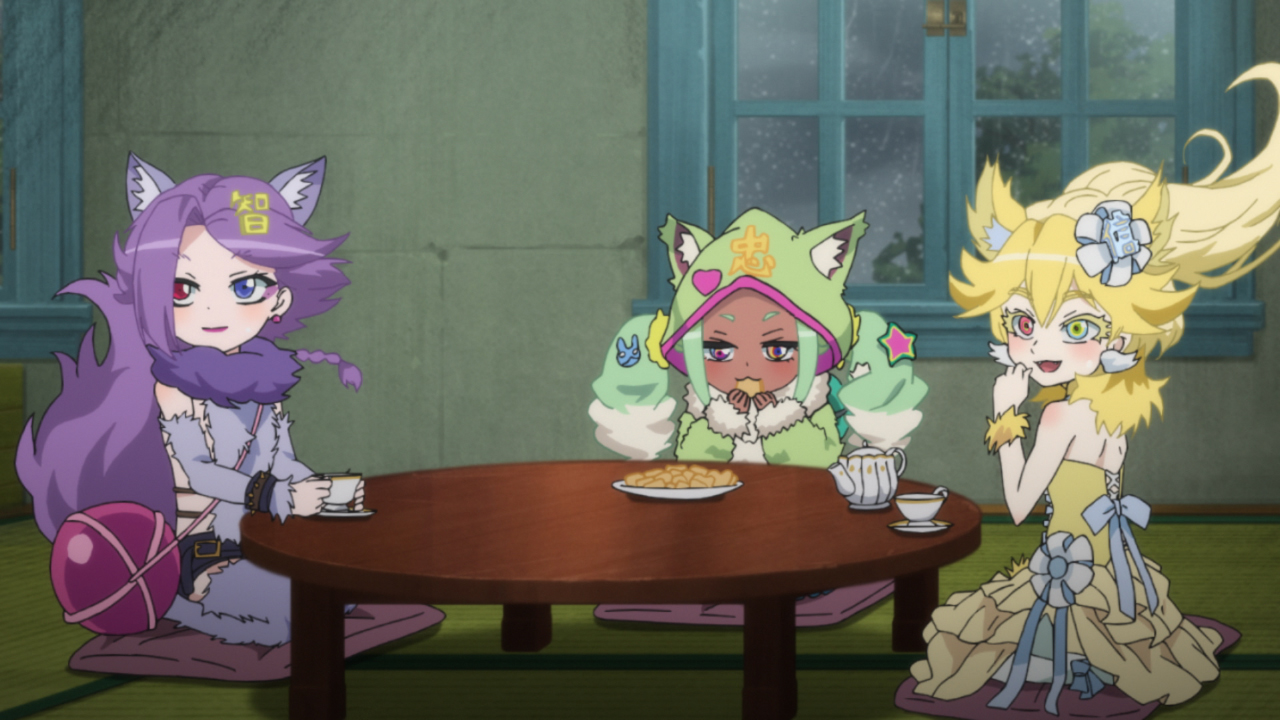 Kaikai Kiki is an art production and management company headed by contemporary artist Takashi Murakami. PONCOTAN is the company's film and TV production division, which focuses primarily on 3D computer graphics, visual effects, and animation.
PONCOTAN began as a studio established for the purpose of producing Takashi Murakami's animated TV series project, 6HP (Six Heart Princesses). 6HP is a majokko (magical girl/princess genre) anime. It started as a short 5-minute animated film titled Six ♡ Princess shown at Murakami's solo exhibition at the Palace of Versailles in 2010. The following year, in 2011, a studio was established in Sapporo, Hokkaido, a hometown of mebae, the character designer. The 6HP project has since moved forward steadily: In the summer of 2013 the studio released a pilot promotional video created entirely with 3D graphics, and that winter produced a music video for a cosmetics line developed in collaboration with the cosmetics company Shu Uemura.
Unfortunately, however, the production of the animated TV series, the original purpose for which the studio was created, ran into difficulties...
We have tried a variety of techniques, from 2D animation to full 3D animation, but it has been five years since the Sapporo studio opened and we still have little to show for it. During that time, we established a VFX studio in the Motoazabu neighborhood in Tokyo in 2014 for creating computer graphics and visual effects for live-action movies. The new studio honed its 3D computer graphic skills creating the computer graphics for the Jellyfish Eyes film series directed by Murakami.
Then in 2016, following a series of ups and downs, we finally managed to get 6HP aired on TV with the opening of our Nakano studio.
Now is the time PONCOTAN's worth will truly be tested. Stay tuned for what PONCOTAN has in store with the 6HP project and more!
HISTORY
2001April
Kaikai Kiki is founded.2009
mebae joins Takashi Murakami's 6HP project.
July
Murakami holds a special exhibition titled Majokko (Magical Princess) a la Mode at Vogue Nippon and Comme des Garcons "Magazine Alive" pop-up store.
September
Murakami exhibits majokko-themed work at the exhibition Pop Life: Art in a Material World.2010September
Murakami shows the short film Six ♡ Princess at his solo exhibition at the Palace of Versailles.2011April
Studio PONCOTAN is established in Sapporo. Production begins on the 6HP TV series.2013
March
Music video for "Redial" by livetune feat. Hatsune Miku is released.
August
Kaikai Kiki exhibits at dojinshi fair Comic Market 84. Begins selling 6HP merchandise.
October
Cosmetics company Shu Uemura and 6HP collaborate. Promotional video "6HP by Takashi Murakami for Shu Uemura" is released. Shu Uemura releases a holiday collection featuring 6HP characters.2014
April
VFX PONCOTAN is established in Tokyo to create computer graphics for Jellyfish Eyes 2, directed by Murakami.
May
Pharrell Williams remixes Jellyfish Eyes theme song in honor of US screening tour of the film. Music video for Pharrell Williams' remix "Last Night, Good Night (Re:Dialed)" is released simultaneously.
November
6HP Cosplay Performance Stage "6HP Ki" is held.2015
April
Production begins on "Yume Lion" (The Dream Lion) series for Tokyo MX's station ID. A new segment is released monthly.
VFX PONCOTAN officially starts operations with a staff consisting entirely of new recruits.2016
April
Animation studio Nakano PONCOTAN is established. Production on 6HP TV series goes into full swing.
Sculpt PONCOTAN, Kaikai Kiki's sculpture division, is established.
December
Episode 1 of 6HP airs on Tokyo MX.2017
June
2013 version of 6HP Episode 1 airs on Tokyo MX.
September
New version of 6HP Episode 1 airs on Tokyo MX.
December
Episode 2 of 6HP airs on Tokyo MX.
6 HP Exhibition Vol. 1 held at Animanga Zingaro (from December 21 to January 15) coinciding with December 23 airing of Episode 2.